While equipment that fills bags with product can be very accurate (i.e. +/- 0.5%), they are not weight certifiable for products for sale. This is because: (1) the product is moving while it is being weighed and (2) the bag filling equipment has moving parts that can wear or be adjusted. The bag filler is not a fixed, stable platform like the scale in your doctor's office.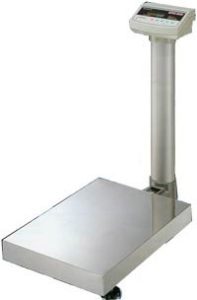 Therefore, a company that sells products by weight must use a separate, validatable, device to prove their bags meet or exceed the weight specified on the bag label. This validation is done by weighing a representative number of bags on a NTEP (National Type Evaluation Program) approved device. 
More detailed information on the federal requirements for weight measurements can be found in the NIST publication "Weights and Measures Program Requirements-NIST"
The state and sometimes federal or local jurisdictions are responsible for inspecting and monitoring companies to see that their filled bags are meeting the labeled weights. They also validate that the weight measuring devices (scales) are approved and routinely re-certified.
Approved scales must be weight certified. They can be certified by state licensed 3rd party service companies. These service companies install, repair and certify scales for accuracy. They are authorized by the regulatory authority to place new weighing instruments into commercial service. Scales are typically re-certified annually.
More information on NTEP approved bag weighing scales offered by Inpak Systems.
For more specific recommendations for your NTEP Scale contact us at: 1-608-221-8180 or sales@inpaksystms.com.