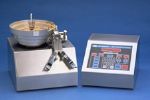 Made in the USA

The Seedburo 801 Count-A-Pak is a vibratory seed counter.The 801 is available with a 7″, 10″ or 10″ shallow feeder bowl to accommodate seed sizes from small vegetable to large grain. The quick disconnect feature allows for easy and complete clean-out of the feeder bowl. The optional foot switch gives total hands free operation.
The 801 has four operating modes:
TOTALIZE: complete count on a pre-weighed or volumetrically measured portion.
BATCH COUNT: counts a predetermined number of seeds in a single batch.
REPEAT BATCH: repetition of a single batch count.
MULTIPLE BATCH: count numerous batches with different seed counts and quantities.
Control Module:
The 801 Control Module has a membrane touch panel and the digital display enabling the user to see the seed count; batch or group count; sensitivity and speed settings. The serial data interface allows for direct printer attachment, data logger or computer interface. The microprocessor controls also allows for a bag detection system that prevents double filling of bags or spilling when a bag is not present. The optional foot switch provides hands free operation.
The electromagnetic vibratory action moves the seeds upward along the track. Selective devices in the bowl arrange the seeds into a single file, one layer deep, before they are discharged. As a seed travels down the discharge chute, it is detected by a microprocessor controlled sensor. Unlike "electric-eye" counters, this sensor's sensitivity is adjustable so that chaff or other undesirable matter will not be counted.
STANDARD FEATURES:
4 operating modes
Sensitivity adjustable sensor
7" or 10" dia. bowl adaptable
Quick bowl disconnect
Control module
Serial data interface
OPTIONS:
Foot switch
Bag detection system
UTILITIES:
Air: None
Electrical: 115/230 VAC, 50/60 Hz