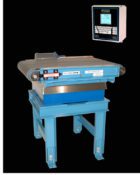 Made in the USA

Thompson Scale 4693 Checkweigher is a heavy-duty, in-motion, check weight conveyor designed to weigh large and heavy products of virtually any shape or size such as: pails, drums, boxes, cartons and bags.  Using a single "S-Type" load cell located below the conveyor, the Model 4693 weighs items from 1 lb. to 500 lbs. at speeds up to 220 fpm. with production rates in excess of 50 units per minute.
This checkweigher is extremely accurate and dependable and specifically intended for harsh, abusive, dirty environments commonly found in the chemical, starch, flour, salt,  cement, concrete, soil, bark, and carbon black products industries.
The Model 4693 Controller offers 75 unique product setups, fully digital calibration, and user prompts on-screen. Standard features include prompts for product name, lot number, and 5 weigh zones (low reject, low pass, good, high pass, and high reject).
Standard Features:
Checkweigher:
Item weight: 1 lb. to 500 lb.
Accuracy: up to +/- 0.05 lb.
Conveyor length: 28" to 5', width: 12" to 36"
Conveyor speeds up to 220 fpm
Slider belt
NEMA 4x controller enclosure
Horizontal to 120 incline/decline conveyor
Epoxy coated steel
Single load cell
Controller:
4.3" x 5.0" LCD display with 1" numbers & full keyboard
75 unique product setups
5 weight zones
3 reject outputs
Self-calibration
Options:
Metal detectors
Barcode readers
Stainless steel & special materials for harsh environments, food grade or corrosive areas
Rejection & peripheral conveyors
Data logging and reporting software
Remote digital and zone light displays
Hydraulic lift
Utility Requirements:
Air: None
Electrical: 120VAC, 50/60 Hz.
Approximate Dimensional Drawing: