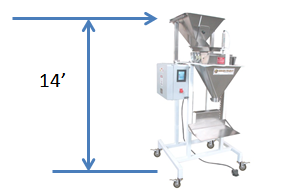 The supply hopper is located above the bagging scale is about 14' above the floor. Often a supply conveyor, sometimes called feed conveyor, is needed to get the processed product up and in to the supply hopper.
Feed conveyors can be supplied from a variety of upstream process equipment (i.e. mixers, blenders, dryers) or bulk bags (FIBC). Most supply conveyors require a consistent, controlled infeed so that the product doesn't overflow or backup.  
There are 4 types of supply conveyors: auger (screw), bucket, cleated belt and pneumatic. Which type of supply conveyor is used is dependent on the characteristics of the product, available floor space and funding.
Contact us to receive more information about our product line or fill out our Packaging Solutions Worksheet to inform us of you specific needs. Our packaging systems experts will then find the right supply conveyor for you