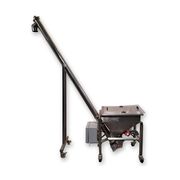 Auger conveyors, (also known as: screw conveyors, spiral conveyors, helix conveyors or worm conveyors) are typically straight like a belt conveyor. Semi-flexible screw conveyors with a flexible plastic tube and internal coil are also available. Auger conveyors are good for semi-fluid and non-abrasive applications like powders where crushing or grinding the product is not a concern.   
Video of an auger supply conveyor in action.
Contact us to receive more information about our product line or fill out our Packaging Solutions Worksheet to inform us of your specific needs. Our packaging systems experts will then find the right auger supply conveyors for you.
For more information on auger supply conveyors select one of the products below.