INPAK SYSTEMS offers several commercial hot air bag sealers which can be free-standing, mounted on a column or incorporated in bag filling/sealing system. For bags weighing more than one pound, a synchronized support conveyor is usually used.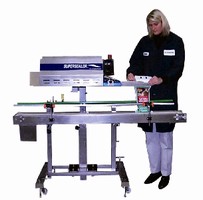 Hot air bag sealers are used to seal 1-8 mil thick pillow or tube-type polyethylene (PE) bags or pouches.
A hot air bag sealer uses two belts to pull the bag through the sealer. A heated manifold blows hot air on both sides of the bag and the belts then seal the bag closed. Options include: bag filler, bag top trimmer, bag top washer, embosser, coder, and a bag holding conveyor.
Videos of hot air sealers in action.
For more information on a specific hot air bag sealer, select one of the products below.