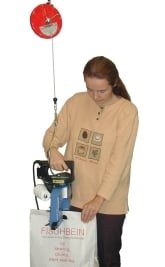 INPAK SYSTEMS offers a variety of industrial-grade, portable bag sewers. Portable, sometimes called handheld, bag sewers are ideal for low volume (4-8 bags/minute) applications or where a fixed sewing head is not suitable.
Examples, where portable bag closers are used, include closing bales of hops, sewing geotextile tubes, or on a small farm sewing closed bags of seed or feed.
Plain sew models are available in either a horizontal sewing or vertical sewing configuration.
To reduce fatigue and increase production, a spring-loaded suspension unit is available to suspend the portable bag sewer until needed.
Videos of portable bag sewers in action.
For more information on portable bag closers, select one of the products below.