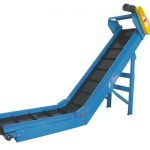 Belt supply conveyors can be used if the product is a pellet or chunks. Often cleats and/or side rails are added to contain the product. Since the belt is flat, belt conveyors usually require most floor space.  To reach 14' high, a 45 degree incline conveyor is 20' long and requires at least 14' floor space.    
Video of a belt supply conveyor in action.  
Contact us to receive more information about our product line or fill out our Packaging Solutions Worksheet to inform us of you specific needs. Our packaging systems experts will then find the right bag closing conveyor for you.
For more information on belt supply conveyors, select one of the products below.