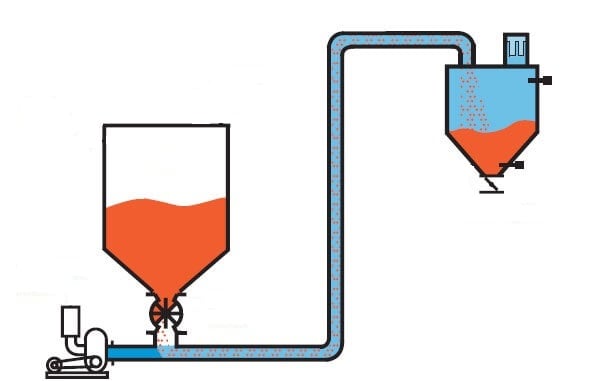 Pneumatic conveyors, also known as vacuum conveyors are used to transport dry powders, granules, and low density products that can be moved with air pressure or a vacuum through a tube. Typical products include: flour, cement, sand, plastic pellets, various chemicals, food products, and minerals.
Materials with a large particle size, high bulk density or are sticky are difficult to transfer via pneumatic conveying systems. Gravel, rocks and titanium dioxide are not recommended for pneumatic conveyors
Pneumatic conveyors are very versatile. They can be piped relatively long distances, make turns, have a small floor foot print, and are a closed system. The disadvantages of pneumatic conveyors are they: require a lot of energy to operate, require a dust collection system, and are limited in the type of products they can transport.
Pneumatic conveyors transport materials in one of three ways:  dilute phase, dense phase- moving bed and dense phase-moving plug.
In

Dilute Phase

the product is suspended in the air. Most products can be transferred in dilute phase, but require a high velocity and a lot of energy. Abrasives and fragile materials are not recommended for dilute phase.
In 

Dense Phase-Moving Bed

the product is transported along the bottom of the pipe. This type of flow is limited to material very fine powdered materials like fly ash, cement, or flour.
In 

Dense Phase-Moving Plug

the product moves as plugs separated by air gaps. This type of flow is possible when the product has good permeability such as pellets and seeds.
Video of a pneumatic supply conveyors in action.
Contact us to receive more information about our product line or fill out our Packaging Solutions Worksheet to inform us of you specific needs. Our packaging systems experts will then find the right pneumatic supply conveyors for you.
For more information on pneumatic supply conveyors select one of the products below.