INPAK SYSTEMS offers hand held, portable, table top, and mounted commercial band sealers.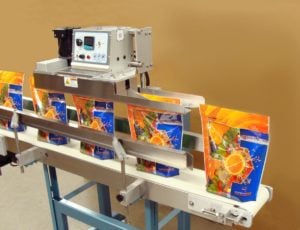 Band sealers have two bands, typically infused with PTFE to prevent sticking, that hold the top of the bag and carry it between heating elements which hermetically seal the bag closed. Depending on the type of bag, industrial band sealers can produce seals from 1/8" to 1/4″ wide at rates up to 75 feet/minute.
Band sealers can be operated in a horizontal, tilted, or vertical position. The vertical position is used if the product can flow out of the bag (i.e. powders, liquids) and the horizontal position is used when the bag can be laid on its side.
Bags can be manually or automatically fed into the band sealer. Bags over a few pounds typically require a support conveyor. Options include: bag fillers, printers, coders, embossers, floor stands, bag trimmers, and synchronized support conveyors.
To see videos of band sealers in action click here.
For more information on a specific band sealer, select one of the products below.