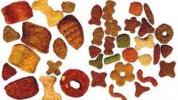 Dry pet food (e.g. dog food, cat food, rabbit food, hamster food, mice food or Guiana pig food) is available as pressed pellets or free flowing granular mixes. Pet food is normally packaged in 1 lb. – 50 lb. foil pouches, poly lined paper or paper bags.
For the dry pet food bagging industry, we recommend the Hamer 600NW net weigh bagger, the Fischbein Model DRC 300 double roll over bag sealer, the Hamer Robotic Palletizer, and the ARPAC Pro pallet stretch wrapper.
INPAK SYSTEMS offers a wide variety of other bagging equipment that maybe suitable for dry pet food bagging applications.
With over 30 years of experience in the pet food bagging industry and representing over 40 manufacturers, INPAK SYSTEMS is in a unique position to recommend the best dry pet food packaging equipment that will satisfy your specific dry pet food packaging system is best for you?…. contact us
Recommended Bagging Equipment for Dry Pet Food