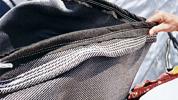 Geo-textile materials are sewing together creating large tarps and tubes used in landscaping and drainage control applications.
For geo-textile sewing equipment we recommend the Union Special 2200B portable bag closer with nylon thread.
With over 30 years of experience in the geo-textile sewing industry and representing over 40 manufacturers, INPAK SYSTEMS is in a unique position to recommend the best geo-textile sewing equipment that will satisfy your specific geo-textile sewing needs. Not sure which geo-textile sewing equipment is best for you?….contact us.
Recommended Bagging Equipment for Geo-textiles