Made in the USA

The APM VCBS 1/8 Continuous Band Sealer is a vertical, rotary band sealing system for plastic bags or pouches. The VCBS 1/8 with its synchronized lower conveyor and synchronized dual motors will seal and trim Tyvek, foil, polyethylene (PE), polypropylene (PP), nylon, co-extrusion polylaminates and poly-coated paper materials. The VCBS 1/8 has a 5" long heating zone and 5" long cooling zone for greater flexibility in sealing of difficult materials. With special heavy-duty, wear-resistant laminated Teflon® bands and PID digital temperature controller, the VCBS 1/8 can maintain a consistent heat up to 5000F. Configurable to produce seals 1/8″, 1/4" or 3/8" wide, the VCBS 1/8 can seal at speeds up to 720 inches per minute (60 fpm)1.
Specially designed for: Polyethylene (PE), Polypropylene (PP), Polyester, Kraft/PE, Tyvek, Polymylar, foil/PE, Cryovac, Co-extrusions, Polylaminates, Military Specs and Nylon
Standard Features:
Capable of variable speeds up to 540 inches per minute (45 feet per minute)
Portable
USDA-approved
Accommodates wide range of challenging materials
Uses special heavy-duty, wear-resistant laminated Teflon® bands
Produces strong, reliable, hermetic seals 3/8″ wide
Configurable to produce seals 1/8″ and 1/4″ wide
Digital temperature control with PID maintains consistent heat
5″-long heating section (capable of 450 degrees F)
Chrome-plated sealing assemblies
5″ long nickel-plated cooling section
Stainless steel shafting
Anodized aluminum chassis
4 ft high adjustable floor stand
Ultra-quiet gear motor
Switchable (on/off) front heater for sealing Tyvek®
Options:
Seal validation
Embossing coder for product marking
1Testing might be required to determine obtainable speeds for your application.
Utility Requirements:
Air: None
Electrical: 120 VAC , Single-Phase, 10 AMPS
Approximate Dimensional Drawing: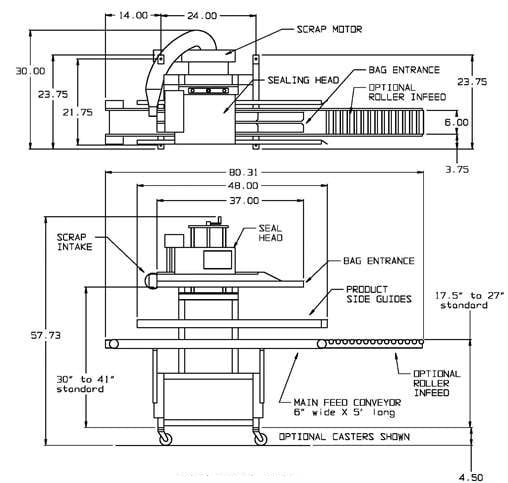 Array