Made in the USA

Quickly and efficiently fill open-mouth bags with dry-flake powdered, pelleted, or granular materials. The Chantland Model 4198 Weighmaster II Auger Bagger is a heavy-duty gross weigh auger bagger that can fill open-mouth bags at speeds up to 4-6 bags per minute, depending on your operational parameters, with accuracies up to +/- 0.25 % for load cell models or +/- 0.50% for scale beam models, based on product flow and the consistency of bulk density.1 Also ideal for filling drums and boxes. Available with stainless steel contact surfaces and/or food-grade welding and polish.
STANDARD FEATURES:
Obtainable accuracies up to +/- 0.25 % ( load cell) or +/- 0.50% ( scale beam) models
Speeds up to 4-6 bags per minute
Fills 20-110 lb bags or 50-220 lb drums
Heavy gauge carbon steel
Mild steel contacting surfaces
One coat industrial primer, one coat enamel paint
Dust collector connection
5 HP totally enclosed, fan-cooled motor designed for frequent stop/start
NEMA-12 electrical controls
OSHA type cleanout door
Scale beam weighing on pivoted hardened knife edges with sensing switch cutoff
OPTIONS:
3 A dairy grade package
Stainless steel (T304) contact surfaces
Food-grade construction with No. 4B polish includes drain plug and air purge packing gland
De-aeration probes remove excess air out of floody, fluid products to ease bag closing & sealing
Drum holding cradle attachment
Feeder ribbon or spiked agitator in primary hopper for sluggish materials
Hard-faced auger (Stellite) for abrasive materials
Load cell weighing with two-stage digital controller
NEMA-4 watertight electrical controls
Either white urethane or stainless steel paint
Two-stage bulk and dribble feed for increased accuracies
1Testing might be required to determine obtainable speeds and accuracy for your application.
UTILITY REQUIREMENTS:
Air: 2.5 CFM @ 80 PSI
Electrical:
Motor: 220/440V, 3PH, 60Hz
Controller: 120VAC. Single-Phase, 60HZ
APPROXIMATE DIMENSIONAL DRAWING: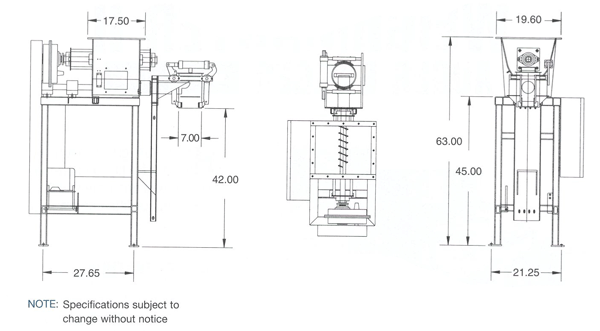 STARTUP SERVICES
Inpak Systems offers a startup service on your new Model 4198. This includes verifying the Model 4198 is operating properly to factory specifications. The startup service includes operation verification, operator training and maintenance training.
PREVENTIVE MAINTENANCE SERVICES
To prevent downtime and costly emergency repairs, preventive maintenance (PM) services are available for your Model 4198. To ensure your Model 4198 operates at maximum efficiency, PMs can be arranged to fit your production schedule.
IN-PLANT REPAIR SERVICES
Inpak Systems offers in-plant repair of your Model 4198. Our experienced, factory-trained, and certified technicians use genuine OEM parts to ensure your Model 4198 is restored to original factory operating specifications. Dispatched from either our WI or OH locations ensure a quick response throughout the Midwest.