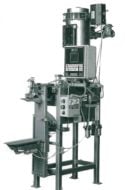 Made in the USA

The Chantland Model 4213 is a gross weigh, pneumatic air packer designed to fill valve type bags with dry free-flowing granular products, such as: pelleted or prill fertilizers, granular herbicides, granular aggregates, seeds, plastic pellets and similar materials.
The Model 4213 consists of a pressure chamber with an inlet butterfly valve, a discharge spout that fits the valve bag inlet, a positive displacement blower (in most cases) to generate adequate air volume, and controls to direct the airflow according to the product type. When a bag is placed on the spout, a fill cycle is initiated. The butterfly inlet valve will close, trapping product in the pressure chamber. Air generated by the blower is directed primarily into the top of the chamber. Air passes through the product and as it flows out the spout, carrying product along with it into the bag. Once the bag achieves the filled weight, a cross pinch valve closes to prevent product from passing out the spout. The air pressure is relieved, and the butterfly valve opens again to recharge the pressure chamber for the next fill. The filled bag is discharged, and the cycle can be repeated.
STANDARD FEATURES:
scale-beam gross weigh.
20 lbs. to 110 lbs. valve type bags.
pneumatic feeder.
manual start switch.
mechanical tilting bag chair.
manual bag clamps.
hinged chamber bottom for clean-out.
butterfly valve with actuator.
sight glass in product chamber.
pressure chamber exhaust.
dust collection hood and manifold.
mild steel construction.
OPTIONS:
automatic fill start
automatic bag discharge.
pneumatic bag clamps.
load cell weighing with digital controller.
low pressure air pump assembly.
fill tube jet sweep out.
stainless steel contact surfaces.
food grade construction.
anti-corrosive package.
operator deck & seat
UTILITIES:
Air: 1.5 CFM @ 80 PSI 
Electrical: TBD
STARTUP SERVICES
Inpak Systems offers a startup service on your new  MODEL 4213. This includes verifying the MODEL 4213 is operating properly to factory specifications. The startup service includes operation verification, operator training and maintenance training.
PREVENTIVE MAINTENANCE SERVICES
To prevent downtime and costly emergency repairs, preventive maintenance (PM) services are available for your MODEL 4213. To ensure your MODEL 4213 operates at maximum efficiency, PMs can be arranged to fit your production schedule.
IN-PLANT REPAIR SERVICES
Inpak Systems offers in-plant repair of your MODEL 4213. Our experienced, factory-trained, and certified technicians use genuine OEM parts to ensure your MODEL 4213 is restored to original factory operating specifications.  Dispatched from either our WI or OH locations ensure a quick response throughout the Midwest.