Made in the USA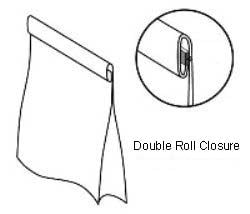 The Fischbein DRC 300-PLUS is a continuous, hot-melt glue, double fold-over, bag sealer for closing large, open mouth multi-wall paper bags. DRC-300 can seal flat or gusseted bags weighing 25 to 50 pounds at speeds up to 80 FPM.
The DRC 300-PLUS first trims the top of the bag, folds it once, applies a pre-measured bead of hot melt adhesive just below the first fold, and then securely seals it with a second fold to provide a clean finished look.
The DRC 300-PLUS is ideal for consumer oriented products like pet food, food pre-mixes, flour, sugar, charcoal, and similar products. The DRC 300-PLUS is compatible with semi and fully automated bagging lines. Optional TRS-100™ pneumatic trim removal and collection system is now available.
Standard Features:
25 to 50 lb. multi-wall paper bags
up to 80 FPM variable speed drive
R – L operation
5/8" to 1" fold width
digital temperature and air pressure displays electronically
adjustable sealing-line height (29″ to 69″)
Dynatec hot-melt system
bag top air scrubber
NEMA-12 dust-tight electrics
Options:
L to R bag feed
extended infeed system
Steel-It paint finish
dual-knife bag top trimmer
Utility Requirements:
Air: 80-100 @ 8.0 CFM
Electrical: 230/460 VAC, 3 Ph, 60 Hz, 45 AMPS
Startup Services:
Inpak Systems offers a startup service on your new DRC 300-PLUS. This includes verifying the DRC 300-PLUS is operating properly to factory specifications. The startup service includes operation verification, operator training and maintenance training.
Preventative Maintenance Services:
To prevent downtime and costly emergency repairs, preventive maintenance (PM) services are available for your DRC 300-PLUS. To ensure your DRC 300-PLUS operates at maximum efficiency, PMs can be arranged to fit your production schedule.
In-Plant Repair Services:
Inpak Systems offers in-plant repair of your DRC 300-PLUS. Our experienced, factory-trained, and certified technicians use genuine OEM parts to ensure your DRC 300-PLUS is restored to original factory operating specifications. Dispatched from either our WI or OH locations ensure a quick response throughout the Midwest.
Approximate Dimensional Drawing: