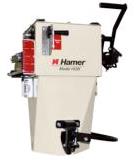 Made in the USA

The Hamer Model HGB is a gross weigh, mechanical bagging scale. The Model HGB uses a mechanical counter balance weight set and requires no electrical or compressed air. It is an ideal solution for manual bagging of free‐flowing granular products, such as: fertilizers, sugar, salt, plastic pellets, seed or animal feed. The Model HGB is available in mild steel or stainless steel construction with a choice of 2 spout sizes.
STANDARD FEATURES:
6 to 8 BPM
10 Lb. to 150 Lb. (5 Kg to 70 Kg) weight range
Mechanical indicator for weight variance
Adjustable flow control gate
Large Bag Spout: 16 in (40.6 cm) minimum bag width
Small Bag Spout: 12.5 in. (31.7 cm) minimum bag width
OPTIONS:
Dust tight system
Bag spout for bags 22 to 55 Lb. (10 to 25 Kg)
UTILITIES:
Air: none
Electrical: none
STARTUP SERVICES:
Inpak Systems offers a startup service on your new Model HGB. This includes verifying the Model HGB is operating properly to factory specifications. The startup service includes operation verification, operator training and maintenance training.
PREVENTIVE MAINTENANCE SERVICES:
To prevent downtime and costly emergency repairs, preventive maintenance (PM) services are available for your Model HGB. To ensure your Model HGB operates at maximum efficiency, PMs can be arranged to fit your production schedule.
IN-PLANT REPAIR SERVICES
Inpak Systems offers in-plant repair of your Model HGB. Our experienced, factory-trained, and certified technicians use genuine OEM parts to ensure your Model HGB is restored to original factory operating specifications. Dispatched from either our WI or OH locations ensure a quick response throughout the Midwest.
APPROXIMATE DIMENSIONAL DRAWING