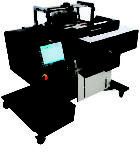 Made in the USA

"Tube" type poly bags are fed into the Sharp MAX™ Continuous Roll Bagging System where the bag is opened, filled with product, heat sealed and separated.
The MAX™ 12 accepts bags up to 12" wide and 40" long and the MAX™ 20 accepts bags up to 20" wide and 40" long. They can be set up for either horizontal or vertical loading. Acceptable bag materials include: Polypropylene (PP), heavy duty PP, military specification, gamma patient, metalized barrier, electric static discharge (ESD), modified atmospheric packaging (MAP), non-scratch, anti-static and vapor corrosive inhibitor (VCI).
Typical markets include: food, fulfillment, hardware, hobby, injection molding, medical, parts and retail.
Bar codes, graphics and alphanumeric can be imprinted on the bags by either a stand-behind or integrated "first-bag-out" printer. The MAX™ Systems easily interface with all types of in-feed and out-feed devices.
Specifications:
Up to 70 bags/min.
Bag width 2"-20"
Bag length 3.5"-32"
Bag gauge 1 mil – 4 mil
Bag roll size 10", 12", 14" or fan-folded
39.1"D x 46.5"W x 35"H (base unit)
Options:
MAX-SB includes stand-behind printer
MAX-I includes integrated "first-bag-out" printer
Utility Requirements:
Electrical: 110 VAC 50 HZ, 15/4 AMPS
Air: 80 PSI, 5 scfm, 5.5 bar
Dimensional Drawing