One of the most often used and cheapest methods to closed paper bags is to sew them closed. 
There are 2 types of paper bag sewers: portable and fixed head sewing systems.

Portable, or handheld, sewers are usually used in entry-level bagging operations (<5 bags/minute), when there are just a few bags to sew at a time, or where a fixed sewing head is not suitable (i.e. out in the field). A portable sewer typically uses a single thread, but for textile bags, a dual thread is normally used. A spring-loaded suspension unit can be used to reduce fatigue. As the bagging operation grows, a portable sewer can be mounted on a pedestal above a conveyor.   
More information about portable bag sewing closers.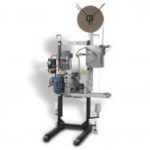 Fixed sewing heads are mounted on pedestals above a horizontal bag closing conveyor. Fixed head sewers are manually fed and designed to run 24/7 and on higher volume (up to 20 bags/minute) bagging operations. Fixed head sewers use a dual thread stitch. They can be integrated into fully automated systems. Tape coders and tag placers are often added to label the bags 
There are 2 kinds of bag sewers: plain sewer & tape sewer.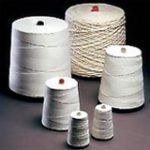 Plain sewers close paper bags with a single thread stitch (portables) or a dual thread stitch (fix heads). For fine powders where leakage may be an issue, a bag with a top that is folded over before sewing closed can be used.    
Tape sewers close paper bags with crepe tape applied over the bag top before being sewn closed. The crepe paper produces a nice finished top and reduces product leaking. With real fine products where leaking is a

major issue, a filler cord can be added to "seal" the needle holes.
More information about fixed head bag sewing systems.