There are two types of bags: open mouth and valve type. Open mouth bags are open across the top and require some method to close the top. Valve-type bags have a corner opening that is used for filling.
Open Mouth Bags: 
Depending on the bag's material, open mouth bags are either sewen closed or heat sealed.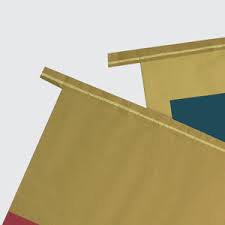 Open mouth bags made of multi-walled paper or poly-woven material can be sewen closed. Bags containing powder products typically have a crepe tape folded over the top or have a filler cord added to prevent leakage out of the needle holes.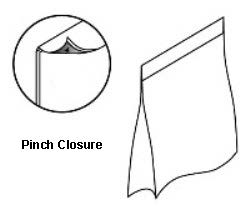 Paper bags may have a glue strip across the top which is folded over and heat-sealed to close. For products like flour that are moisture sensitive or where contamination is an issue, paper bags can have a poly liner that is heat-sealed before the paper top is folder over and sealed closed.
Valve Type Bags: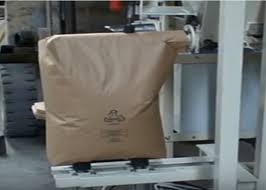 Valve-type bags are already closed across the top but have an opening on the upper side corner. The bag is placed over a fill tube and the product is added. After the bag is filled, it is removed from the tube closing the port.
The choice between open mouth bags or valve type bags depends on: funding, product characteristics, space, and/or manpower.  
Advantages of Valve Type Bags:
Equipment cost. Because valve-type bags don't require any bag closing equipment, you will save $20,000-$25,000 for a bag closer and conveyor.
Reduced maintenance costs
Reduced operating labor
Less space requirements.
Advantages of Open Mouth Bags:
Open mouth bags are less expensive and for high volume accounts bag costs may offset the savings in equipment costs.
Product characteristics (i.e. fibrous, non-free-flowing) prevent the use of valve-type bag fillers.
Open mouth bags can be leakproof & not open to infestation.
More information on bag filling scales offered by Inpak Systems. 
For more recommendations on your specific bag filling application contact us at 1-608-221-8180 or [email protected].