How do I decide what bagging conveyor options do I need? Well, selecting a conveyor is like buying a car. First you decide on the model (i.e. sedan, convertible, SUV), then you pick the options (i.e. color, engine size, CD player). Likewise with a conveyor… do you need a transfer, kicking, flattening or turning conveyor? Then, based on your specific needs, what options you need.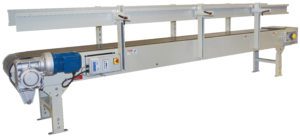 Listed below are a few common options/upgrades that should be considered when selecting your bagging conveyor.
Manual or Powered Height Adjustment
Conveyors have fixed height legs that can be set up within a small height range (i.e. 12"-20" TOB). This is great when filling/closing a single size bag. However, if you are filling different size bags, you can get a manual or a powered adjustable height option that will allow you to easily adjust your conveyor height to match the height of your bag.                     
Variable Belt Speed (VFD)
Conveyors are offered with fixed belt speed (i.e. 40, 120 FPM). However, to get a good seal or sew line, you may need to closely match the speed of your bag closer. A variable belt speed (VFD) option allows you to easily match your bag closer's speed.
Start/Stop Switch
Sometimes it is necessary to temporarily stop a conveyor (i.e. to reposition a bag). Optional start/stop switches are available in whisker wand, photo eye or foot switch configurations
Front & Back Guide Rails
Depending on the length of the conveyor and your product (i.e. very fluid products), it may be necessary to support the bags in upright position. Optional, adjustable, front & back guide rails are a good upgrade.
Casters
Conveyors are normally bolted to the floor. However if a conveyor needs to be moved for cleaning or servicing, casters are a good choice. Fixed, swivel & locking casters are commonly available.
NEMA 4 Enclosures
In dusty locations or when the conveyor needs to be washed down, a NEMA 4 electronics enclosure upgrade to protect your electronics is recommended.
Stainless Steel Construction
In corrosive environments (i.e. fertilizer plants) or food processing areas, stainless steel conveyors may be necessary.
These are just a few of the conveyor options that are available. For more specific recommendations for your conveyor needs, contact us at: 1-608-221-8180 or sales@inpaksystms.com.