The choice of a bagging scale feeder is dependent on your product's flow characteristics.
The types of scale feeders include gravity, vibratory, belt, auger, impeller, and air packer.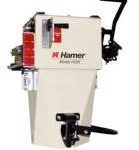 Gravity Feeders:
Gravity baggers are available as gross or net weigh baggers and utilize gravity to fill bags with free-flowing, high-density materials like flakes, granules, or pellets where the product easily falls into a bag or hopper. Gravity baggers with mechanical scales require no air or electricity. Applications include corn, grains, fertilizer, refractory materials, plastic pellets, salt, sand, soybean, and sugar.
Examples of gravity feeders.

Vibratory Feeders:
Vibratory baggers are available with a single-speed vibratory pan (usually with a mechanical scale) or a more accurate, two-speed vibratory pan (usually with an electronic scale). A vibratory bagger is designed to fill bags, pails, boxes, and containers with wet or dry powdered, pelleted, granular, or odd-shaped materials of varying densities such as rice, nuts, candies, plastic pieces, dry foods, seeds, feed pellets, and gravel.
Examples of vibratory feeders.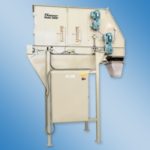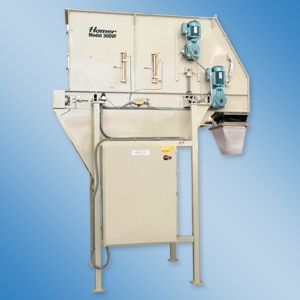 Belt Feeders:
Belt fed baggers are available on either a mechanical or electronic scale and is designed to fill open mouth bags, pails, boxes & containers with non-free flowing powders, granules & flaky materials such as vegetables, cake mix, mulch, wood chips, molasses-based animal feeds, soils, damp sand & gravel and similar materials that do not gravity feed well. More accurate weighments can be accomplished with a bulk-dribble two-speed feed belt.
Examples of belt feeders.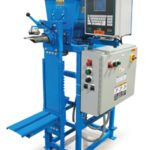 Auger Feeders:
Auger baggers, sometimes called a screw bagger, use a feed screw to fill valve type & open mouth bags with a minimum of aeration. An optional agitator can be used with poor flowing materials. Auger Baggers are designed for flakes, powders, pellets, granules, and fibrous material that may be heated, ground, or crushed. Applications include abrasives, cellulose, fiber, compost, flour, grain, insulation, limestone, minerals, moss, mulch, pepper, pigment, plastic pellets, resins, rubber, salt, sand, sawdust, soils & sugar.
Examples of valve-type auger feeders and examples of open mouth auger feeders.
I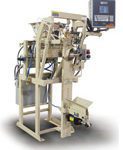 mpeller Feeders:
Impeller packers use a spinning impeller to "blow" material into valve-type bags. They are ideal for fine, dry, high bulk density (>50#/cu.ft.) powders of less than 200 mesh where crushing or fines are not an issue. Typical applications are fly ash, carbon black, cement, kaolin, clay, graphite, polystyrene, silica, and vermiculite.
Examples of impeller feeders.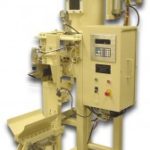 Air Packer Feeders:
Air packers sometimes called forced flow or pneumatic packers, are high-speed baggers that blow fluidized material into valve-type bags. They are used for free-flowing, low humidity, dry flakes, powders & small size granules that cannot be heated, ground, or crushed. Applications include Portland cement, sugar, calcium carbonate, and lime.
Examples of air packer scales.
To be sure of the type of bagging feeder required for your application, it is best to submit product samples for testing.
For help in selecting a bagging scale with a specific feeder, contact us.