Bulk bags are used to transport and store large quantities (1,000 to 4,000 pounds) of dry materials. Bulk bags sometimes called: super sacks, jumbo bags, FIBCs, totes, or big bags are perfect for dry, pelleted, flaked, granular, or powdered products.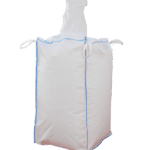 Typically made of a poly-woven fabric, bulk bags and may have a polypropylene coating &/or a liner (poly or foil) to prevent contamination or adsorbing moisture. Special bulk bags are available for food grade products.
Ranging in size from 25 to 60 cubic feet, bulk bags have loops on top which are used to lift and transport the bags. Internal baffles are sometimes incorporated to help maintain the shape of the bag.
To facilitate a wide range of applications, bulk bags are available with a variety of tops (i.e. open, flap, closing rope, spout) and with a variety of discharge spouts on the bottom of the bag.
Bulk Bag Fillers:
Bulk bag fillers are designed to fill 1,000-4,000 pound bags (sometimes called: super sacks, FIBCs, totes, or big bags) at speeds up to 15 bags per hour depending on the application.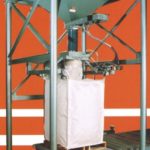 The empty bulk bag is hung on a frame below a fill hopper. In dusty locations, the bulk bag may have a fill spout that is connected to the bottom of the fill hopper. If the bulk bag has an inner liner, a bag inflator can be used. In cases where a recorded weight is required, the bulk bag can rest on a platform scale or be suspended on load cells.
When the bulk bag is filled, it is disconnected from the fill hopper and removed with a forklift. In more automated systems, the filled bulk bag on a pallet is transferred to a conveyor system.    
Some of the bulk bag filler options include an electric hoist & trolley, de-aerator, vibrating platform, bag side thumpers, dust prevention/collection systems, and roller conveyors.
More information on bulk bag fillers.
Bulk Bag Unloaders: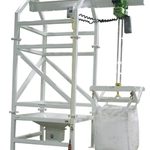 Bulk bag unloaders are used to empty the product from bulk bags.  A forklift is used to lift the bulk bag onto a frame. Alternately, a hoist & trolley system can lift and position the bulk bag. The operator controls a discharge valve on the bottom of the bulk bag. 
Typically the bulk bag is suspended above a feed hopper which feeds a conveyor that delivers the product to the next stage of the process. This, depending on the application, may be a processor, blender, or small bag filler.
Bulk bag unloader options include loss-in-weight load cells, dust control systems, metering discharge valves, agitator paddles, and multi-position discharge chutes.