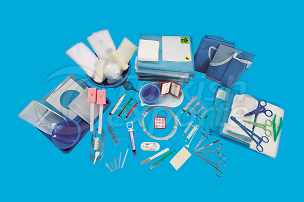 There are a wide variety of products that are classified as medical devices which are subject to the FDA's laws and regulations. As defined by JAMA, "A medical device is used to diagnose, prevent, or treat a medical disease or condition without having any chemical action on any part of the body. 
There are 3 classes of medical devices:
Class I devices are low-risk devices. Examples include bandages, handheld surgical instruments, and nonelectric wheelchairs.
Class II devices are intermediate-risk devices. Examples include computed tomography (CT) scanners or infusion pumps for intravenous medications.
Class III devices are high-risk devices that are very important to health or sustaining life. Examples include pacemakers and deep-brain stimulators."(1)
Inpak Systems provides bag sealing equipment for Class I medical devices (such as PPE products, plastic tubing, and surgical instruments). Individual medical devices are usually hand loaded into a poly bag which is then sealed.
To comply with FDA's regulations, bag sealers used for medical products must be validatable. Validatable bag sealers allow for verification of speed, temperature and air pressure. For validatable bag sealing equipment we recommend the APM poly bag band sealers .
Inpak Systems offers a wide variety of other bag sealing equipment that maybe suitable for medical device bagging applications. For more sealing options go to our Poly Bag Band Sealers Section.
With over 30 years of experience in the medical device bagging industry and representing over 40 manufacturers, Inpak Systems in a unique position to recommend the best medical product packaging equipment that will satisfy your specific needs. Not sure which medical device packaging machine is best for you?…. contact us.
(1) Neil Thompson, Packaging Digest, Medical Packaging 101, Jun 28, 2018.  
Recommended Bag Sealers for Medical Devices