NEEDLE HEIGHT VERSUS LOOPER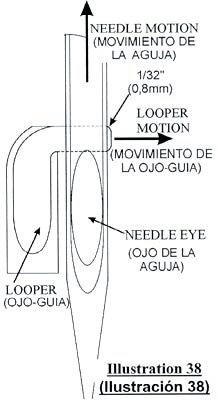 Always adjust the needle height after the looper stroke adjustments have been made. See LOOPER ADJUSTMENTS (TIMING).
Remove the needle bar guard.
Turn the machine pulley in a clockwise direction until the looper begins to come forward, toward the needle (which is beginning to move upward).
As the looper passes behind the needle, the point of the looper (moving to the right) should just begin to be visible (1/32″ or .8mm) past the right edge of the looper hook is seen in the top of the needle eye. (see illustration)
IF AN ADJUSTMENT IS NECESSARY, PERFORM THE FOLLOWING STEPS: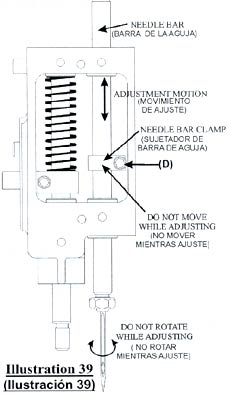 Slightly loosen the set screw (D) on the needle bar clamp assembly. (see illustration)
Move the needle bar up or down until you reach the adjustment shown in tip illustration.
Be sure that you do not rotate the needle bar or the machine pulley as you are performing this step.
When the proper setting is reached, tighten the set screw (D).