Bagging conveyors are used to move filled bags from the bag filler through the bag closer and onto the palletizing area. The following are different types of bagging conveyors.
Inline Bag Check Weight Conveyor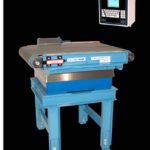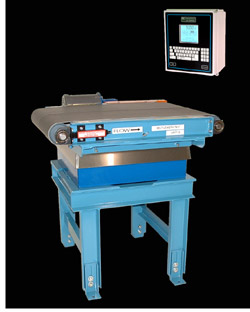 Since bag filling scales can't be weight certified, an inline weight certifiable conveyor can be used to weigh bags. As the bag passes over the weighing section, the weight is recorded. Out of weight specification bags trigger an alarm (visual &/or audible) and could be ejected from the line.
Video of a check weigh conveyor.
More information on check weighers.
Bag Closing Conveyor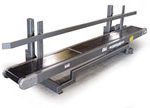 A (bag) closing conveyor is positioned between the bag filler and the bag closer. Typically 8'-12', it is a horizontal, flat bed with side rail(s) or V-dual belt. The V-belt is used with flowable products that will not allow the filled bag to stand up.
Videos of a bag closing conveyor.
More information on bag closing conveyors.
Bag Flattening Conveyor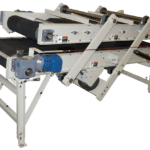 Bag flatteners are used to level out the contents of a bag to a consistent thickness for better stacking. There are two types of bag flatteners: pinch belt & square roller. The pinch flattener conveyor has two belt conveyors that squeeze the bags flat as they pass between. The square roller conveyor has square rollers under the belt that "shake" the bag flat as it passes over.
Video of a bag flattener.
More information on bag flatteners.
Bag Indexing/Positioning Conveyor
An indexing conveyor is used to space out bags at specified distances to allow robots to pick them up. An indexing conveyor is typically found at the end of a transfer conveyor and uses a whisker switch or photo eye to start/stop the conveyor.
Bag Kicking Conveyor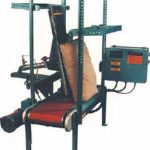 A bag kicker is a flat belt horizontal conveyor that "kicks" an upright bag to a flat, bottom first position. Kicking conveyors are typically found after a bag closer and are used where linear floor space is limited and there is a need to make a 90-degree change in the direction of conveyors.
More information on bag kickers.
Bag Metal Detector Conveyor


Inline metal conveyors can screen bags for metal (ferrous & non-ferrous) contamination. Similar to the Check Weigh conveyors, the contaminated bag triggers an alarm (visual &/or audible) and could eject the bag from the line.
More information on metal detectors.
Bag Transfer Conveyor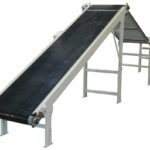 Typically, transfer conveyors are flat belt, horizontal, or incline conveyors. They can be any length depending on needs. For steep inclines, cleats may be required to prevent bags from sliding down. Incline conveyors often have a short, gravity roller conveyor that feeds a loading platform or accumulation table.
Video of a bag transfer conveyor.
More information on transfer conveyors.
Bag Turning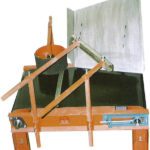 Conveyor
A bag turning conveyor is used to lay a bag flat and spin it to the bottom first position.
Video of a bag-turner.
More information on bag turners.
More specific information on all types of bagging conveyors.
For more specific recommendations for your bagging conveyor, contact us.