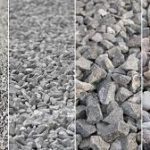 Aggregate is a broad category of coarse to medium material such as: gravel, crushed stone, slag and recycled concrete. Aggregates are the most mined materials in the world and are used in applications like: highways, foot paths, foundations, landscaping and concrete.
For the retail trade, aggregates such as pea gravel and crushed stone are sold in lawn & garden centers in 5 to 40 lb. poly bags.
For 5 to 40 lb. poly bags we recommend the ESP Model MCRS bagger with a Hamer HAS220 bag sealer
Inpak Systems offers a wide variety of other bagging machines that maybe suitable for aggregate bagging applications.
For more filling options go to our Open Mouth Belt Bag Filling Section.
For more closing options go to our Bag Sealing Section.
For more bag handling options go to our Conveying Section.
For more palletizing options go to our Palletizing Section.
With over 35 years of experience in the aggregate bagging industry and representing over 40 manufacturers, Inpak Systems is in a unique position to recommend the best packaging equipment that will satisfy your specific bagging needs. Not sure which aggregate packaging system is the best for you…. contact us.
Recommended Bagging Equipment for Aggregates