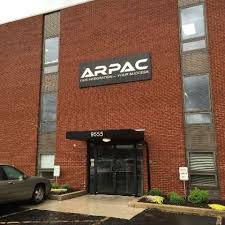 ARPAC is packaging machinery manufacturing and service organization.
ARPAC's packaging product line includes: pallet stretch wrappers, shrink bundlers, tray formers, case formers, tray packers, case packers, shrink tunnels, pallet stretch wrappers and stretch hooding systems. Their machines are highly customizable, and they specialize in designing integrated production lines tailor-fit to customers' needs.
Since 1971, ARPAC LLC has been a leading manufacturer of end-of-line secondary packaging solutions. With 30,000 installations worldwide, ARPAC packaging systems have been successfully installed in virtually every industry.
Its machines provide tailor-fit packaging solutions to producers of: foods, beverages, printed publications, pharmaceutical goods, health & beauty products, building supplies, automotive products, material handling companies and a wide variety of industrial and consumer goods.
Products by ARPAC, LLC