Made in the USA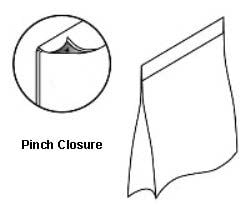 The Fischbein PBC 7500 is a bag sealer for 18-100 lbs. pre-glued, multi-wall, pinch-style, open mouth paper and woven polypropylene bags.
The PCB 7500 is ideal for human and pet foods, bakery mixes, dry chemicals, fertilizers, pesticides, and similar products.
The PCB 7500 seals pre-glued bag-flaps for flat or gusset bag sizes from 12″ to 20″ long, up to 56″ wide, (requires 6″ minimum bag free top). Independently-controlled heat zones allow you to seal bags at speeds up to 65 FPM. The non-stick folder blade closes bags gradually; avoiding defective seals or bag jams while the compression zone firmly holds the bag top while the adhesive sets. An air scrubber ensures adhesive is free of product debris before sealing.
Standard Features:
up to 65 FPM
18 – 100 lbs. pre-glued, pinch-style woven poly & paper bags
12″ to 20″ long, up to 56″ wide bags
independently-controlled, high-efficiency heat zones
non-stick folder blade
R to L bag feed
power height adjustable frame
air scrubber
digital temperature control and readout
bag jam detector and safety on/off switch
variable AC-VFD speed control
NEMA 12 control enclosure
Options:
L to R right bag feed
additional motor starter for conveyor
bag coder contact front print
NEMA-4 wash-down electrics
Utility Requirements:
Air: 90 PSI @ 20 CFM
Electrical: 230/380/460VAC, 3-P, 60 Hz, 25 Amps
Startup Services:
INPAK SYSTEMS offers a startup service on your new Fischbein Model PBC 7500. This includes verifying the Model PBC 7500 is operating properly to factory specifications. The startup service includes operation verification, operator training and maintenance training.
Preventative Maintenance Services:
To prevent downtime and costly emergency repairs, preventive maintenance (PM) services are available for your Fischbein Model PBC 7500. To ensure your Model PBC 7500 operates at maximum efficiency, PMs can be arranged to fit your production schedule.
In-Plant Repair Services:
INPAK SYSTEMS offers in-plant repair of your Fischbein Model PBC 7500. Our experienced, factory-trained, and certified technicians use genuine OEM parts to ensure your Model PBC 7500 is restored to original factory operating specifications. Dispatched from either our WI or OH locations ensure a quick response throughout the Midwest.