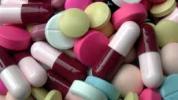 Pharmaceuticals can be either in dry powder or pill/tablet form. Depending on the application, dry pharmaceuticals are bagged in ploy-lined bags ranging in size from a few ounces to bulk IFBC totes of several thousand pounds.
For pharmaceutical bagging, we recommend the Weigh Right iQ-1E vibratory net weigh bagging scale, the APM Model VBS-3/8 continous band sealer, the Fuji-ACE Robot Palletizer, and the Highlight Predator XS pallet stretch wrapper.
INPAK SYSTEMS offers a wide variety of other bagging equipment that maybe suitable for pharmaceutical bagging applications.
With over 30 years of experience in the pharmaceutical bagging industry and representing over 40 manufacturers, INPAK SYSTEMS is in a unique position to recommend the best pharmaceutical packaging equipment that will satisfy your specific pharmaceutical bagging needs. Not sure which pharmaceutical packaging system is best for you?….contact us.