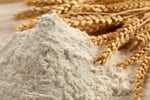 Flour is a finely ground grain that is used in various food products and as a basic ingredient of baked goods.  Typical grains ground in to flour are: corn, rice, rye, barley, wheat, oats, and sorghum.
In most conditions, flour is considered a free flowing dusty powder and an open mouth bag filler is used. Depending on the application, flour is packaged in different size bags. For the retail industry, flour is packaged in 2, 5 & 10 lb. paper bags. The baking industry usually requires flour in 50-80 lb. sacks or 200-2,000 lb. totes (FIBC).
For the retail flour industry we recommend: the Chantland Model 4198 auger bagger , the Fischbein Model DRC 300 double roll over bag sealer.
For the baking industry we recommend: the Chantland Model 4198 gross weigh auger feeder, the Fischbein Model PBC 8000 pinch bag sealer
For palletizing we recommend the Hamer Robotic Palletizer, and ARPAC Pro pallet stretch wrapper.
INPAK SYSTEMS offers a wide variety of other flour packaging machines that maybe suitable for flour bagging applications.
With over 30 years of experience in the flour bagging industry and representing over 40 manufacturers, INPAK SYSTEMS is in a unique position to recommend the best flour packaging equipment that will satisfy your specific flour bagging needs.
Not sure which flour packaging system is the best for you…. contact us.
Recommended Bagging Equipment for Flour